We, the Lanz family, have been committed to living sustainably and in harmony with nature for many years – out of respect for the next generation (our five children) and, of course, you and your descendants who may one day also want to join us for their holidays. This is reflected in everything we do at Hotel Christoph as we consider our impact both on people and nature while always keeping in mind how tourism, the natural landscape, and agriculture can best complement each other.
Heat from our own forest, hydro energy, and solar power
As eco-pioneers from the very beginning, we have been heating our four buildings in an environmentally friendly way since 1997 with wood that we cut from our own forests. Over an area of about 50 hectares, we carefully look after the balance of the forest by reforesting so that we can continue to use the renewable raw material of wood as a source of heat for years to come. And we have been committed to environmental sustainability for even longer. Since 1989, we have covered a considerable part of Hotel Christoph's electricity consumption by using our own hydroelectric power plants, supplemented by solar power from our photovoltaic system.
Mini-bar fridge? No, thanks!
Speaking of electricity, mini-bar fridges usually run day and night as well as in every room of a hotel. We have consciously chosen to do without this power guzzler in all of our rooms. A pleasant side effect? No refrigerator buzz all night so you get a truly restful sleep. We would be happy to take care of any purchases, provisions, medicines, etc. that may need refrigeration for you. Please contact us and our staff at any time.
Organic farming: our contribution to the region
We aren't just passionate about being hosts, but also about agriculture and the care of the meadows, pastures, and forests that goes along with it. In addition to the forest which we use as a source of energy, we maintain 14 hectares of meadows around Hotel Christoph that are completely natural and mown twice a year. The hay serves as fodder for our red and fallow deer in winter. Ultimately, our goal is to rely on natural cycles as well as to encourage harmony between mountain hotel and alpine environment. This is how we contribute to the preservation of our beautiful region.
Your contribution: car-free holidays
Give your car a holiday, too! Olang and the district of Gassl, where you'll find your home away from home, have great public transport links (by bus, citybus, and train). We are very familiar with the timetables and would be happy to help you plan your environmentally friendly journey and your car-free holiday. With the Holidaypass Premium that you receive as our guests, you can use all public transport throughout South Tyrol free of charge. You also have free access to the mountain cableway which stops at the valley station just around the corner. So, feel free to leave your car behind when on holiday with us!
Indulgence with a clear conscience
Many of the ingredients for our exquisite alpine cuisine come from local farms in Val Pusteria/Pustertal and South Tyrol. Connoisseurs of game will be especially thrilled. We have our own 6-hectare deer enclosure at our environmentally friendly farm, where our animals feed on mountain herbs in summer, are fed hay from our meadows in winter, and take in our pure alpine air all year round.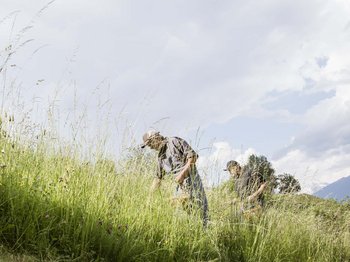 Fresh, high-quality, natural ingredients are the basis for both our traditional and Mediterranean cuisine.